About Fused Glass
Ancient history
Glass fusing is the technique of melting pieces of different coloured glass together. It was the earliest form of glassmaking, dating back over 3,000 years. Threads of molten glass were wound around a core to create a bead or small vessel. In later centuries, threads were pulled into straight lengths (canes), bunched together and reheated to form pattern bars. These had the design right through them, like a stick of rock.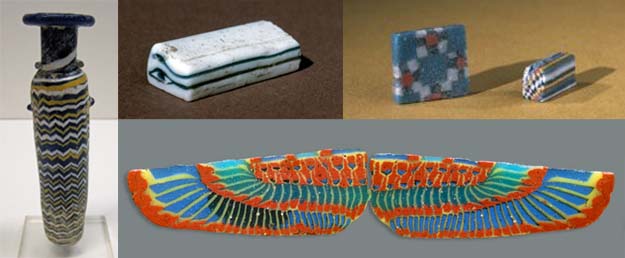 The core-formed jar and pattern bars are from the Collection of the Corning Museum of Glass, Corning, New York. The mosaic glass wings are reproduced courtesy of Phoenix Ancient Art, photo by Maggie Nimkin.

The bar was then cut into slices which were rearranged and fused again for use as a repeating motif, or as elements in a more complex design. The resulting patterned piece might be used for wall decoration, or reheated and shaped in a mould to make a bowl or cup. Sometimes different coloured canes were twisted together. In the ribbon cup pictured they have been fused side by side with plain canes to create a piece with a startlingly contemporary feel.

Images from the Collection of the Corning Museum of Glass, Corning, New York.
Then, about two thousand years ago, experiments led to a more viscous sort of glass which could stretch as air was blown into it by means of a clay pipe. Blown glass was quicker and cheaper to produce than fused glass, which it quickly superseded, and which was largely forgotten until recently.
Recent history
At the end of the 19th century archaological dicoveries led to a revival of interest in glass fusing, and to the development in France of the pate de verre ('glass paste') technique by Amalric Walter and others.  A model was made in wax, and a plaster mould taken from it. The wax was then melted out ('lost wax') and the void filled with granules of variously coloured glass. The filled mould was then put in a kiln to fuse the glass, and when cool, the mould was chipped away to reveal the cast piece.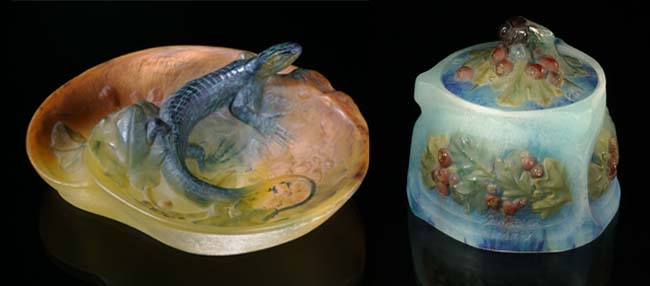 Images courtesy of Broadfield House Glass Museum, photos by Simon Bruntnell.
More recently still, in 1981 in Portland, Oregon, the Bullseye Glass company were tackling the challenge of creating a pallette of 'compatible' colours in glass- ie colours which could safely be fused together in a kiln, without the risk of cracking apart as they cooled. Basically, they set out to rediscover the skills of the ancient glassmakers, and build on their knowledge. For the first time in history, they were able to produce compatible glass in sheets. Now Bullseye produce literally hundreds of colours in an ever-increasing array of forms.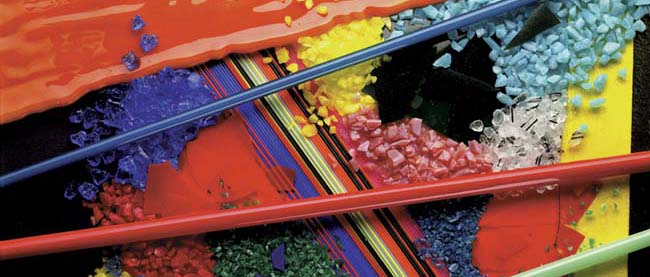 Better insulating materials and computerised controllers for kilns have also broadened the scope of glass fusing immensely over the past thirty years or so, and glass artists all over the world are picking up where the ancients left off, and taking it in all sorts of hitherto undreamt-of directions. Google 'fused glass images' and be amazed!