Diptford Primary - Year 6
Years 5 and 6 made drawings based on the landscape around their school for these two windows for their den area. I worked their ideas into a design which went back to the children and staff for approval. Then five children and two adults came to my workshop and helped to make the panels. They used kiln fibre and frit, and as it was a small group, had a go at glass cutting too, for the stained glass church windows. They did very well, and I think they particularly enjoyed that part! The panels were double glazed, and then Scott Elson of Ashburton Glass and Locks kindly installed them free of charge.

Tor Bridge High, Plymouth - Year 11
As part of the consultation with local schools to help design the waymarkers for the Saltram and Plym Valley Heritage Trail, the students researched the flora and fauna to be found along the route, and developed glass designs from their findings. Each worked on an individual square, which were then fused together patchwork-style to make a wall panel for their school.

Efford Marsh drop-in workshop, Plymouth
Parents and children joined in a day of activities at Efford Marsh nature reserve. For inspiration in the glass workshop we had photos of some of the various plants and wildlife to be found in the area.

As part of the sustainable fishing, seafood and music festival, children at two Brixham primary schools investigated sea creatures and turned their favourites into designs for glass panels. They made individual pieces to keep, and collaborated on larger ones for their schools.
 St Margaret's, Clitheroe, Brixham- Years 5 and 6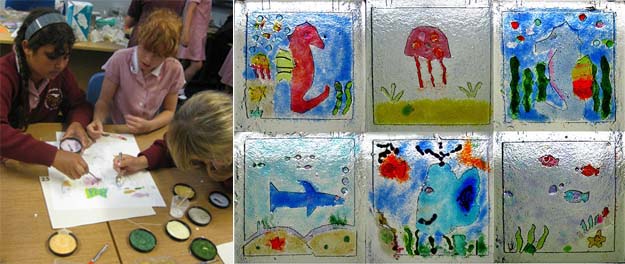 Eden Park Primary, Brixham- Year 6

Dartington Primary- Years 5 and 6
During Arts Week each child designed and made a window panel to take home.

Back to Fused Glass Classes Page